Specials
Updated 8-1-20
2007 Flagstaff 823D for sale on consignment -
$4500
- ON HOLD
This 12' (with storage-trunk) slide-out dinette camper includes a 3-way fridge, 17,000 BTU furnace, stove, awning, two battery boxes (no batteries), two propane rings (1 propane tank), 6-gallon water heater, exterior shower, and 20-gallon water tank with demand pump. It is in great condition with minor stains on the tent, cracking on the storage trunk (which is common for plastic parts of this age), and three caulked roof patches. It needs new tires and at least one battery (see below). Camper #158910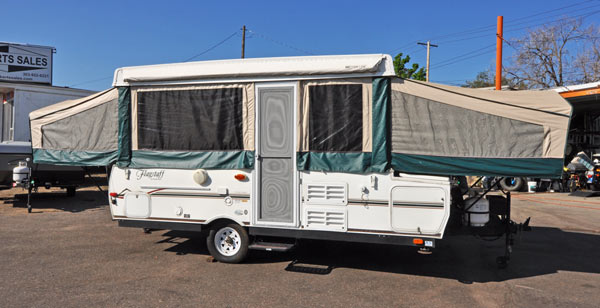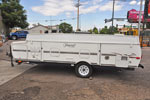 Both tires on the ground have craking side-walls and the spare tire is the original from 2007. We recomend new tires as soon as possible. We can install new tires here for $470. Or, if someone wants to get their own tires, the size is 175/80R13, Load Range C.
The camper as is sits is $4500 but that does not include batteries. There are two battery boxes that will accommodate Group 27 batteries. Two Group 27 deep-cycle marine batteries from us is $280.
Used Rental Camper Sale
SUMMER 2020: All of our used campers are currently needed in our rental fleet. We will remove rental trailers from the fleet as existing reservations permit and make them available for sale, most likely starting in September.
The following categories summarize the used campers on sale from our rental fleet. For specific campers (including photographs) please see Used Campers On Sale.
Flagstaff 176
2019

$9495

$7995

(2 available)

ON HOLD
PLEASE NOTE: We are still renting some of these campers. Not all of them are on display at our lot at all times. (More details

)
When the chart above says there are "6 available " that means we have six of that model and year camper from our rental program that could be sold, not necessarily that all six of those campers are on display at all times.
We apologize for any difficulty not having all of our used campers on the lot at one time may cause but the alternative is waiting until October or November (when the rental season is over) for the sale to begin. However, starting the sale in mid-August allows for late-summer camping trips (like for Labor Day) that may not be possible in October.
For any questions or further details about how the used camper sale works, please give us a call at 303-922-6221. Thank you!
Prices and inventory are subject to change without prior notification.

Top of Page
Privacy © 2009-2020 Roberts Sales. All rights reserved.