T Series
Flagstaff's line of hard-side pop-up camping trailers
The T Series offers some Classic Series and some High Wall Series amenities in a hard-sided shell. The set-up and overall feel of these "A-Frame" trailers is very different from a tent pop-up; we encourage everybody to check out these cool campers in person.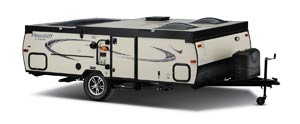 (Low-wall T-Series shown above

, High-wall T-series shown below

)

Model
Box Size
Standout Feature
Floorplan
List Price
Our Price
Low-Wall T-Series Campers
T12RB
12'

The smallest and lightest T-series camper.

12,595

T12RBST
12'

The T12RB interior with an enclosed storage trunk on the front

13,095

T12BH
12'
The T12RB interior with a "BH" bike hauler on the front and a front dormer

13,695

Sports Enthusiast T-Series Campers
T12RBSSE
12'

The T12RBST with Sports Enthusiast color scheme.

$17,955
-4,060

13,895

T12RBTHSE
12'

The T12RBSSE but with a 57" toy-hauler deck instead of a storage trunk

$19,985
-4,590

15,395

T21TBHWSE
14'

NEW for 2018 model year.

The first High Wall T-series with the Sports Enthusiast package

$20,485
-4,690

15,795

High-Wall T-Series Campers
T19QBHW
12'
The only 12' T-series with a queen bed.

$17,845
-4,350

13,495

T21QBHW
14'
The first 14' T-Series. Has a queen bed and a 50" dinette/bed.

$18,975
-4,480

14,495

T21TBHW
14'

Now with front dormer.

The only T-series with three separate beds.

$20,285
-4,690

15,595

T21FKHW
14'
Like the T21DMHW but with a "front kitchen" instead of a toilet/shower.

$20,665
-4,770

15,895

T21DMHW
14'
The only T-Series with an interior cassette toilet/shower combo.

$20,575
-4,480

16,095
Please note: this page includes all of the T-Series / A-frame models Flagstaff offers. Some models may not be available at our store; please check New Campers In Stock for our current inventory. Thank you!

Top of Page
Standout Features on current T-Series models from Roberts Sales
Dometic 10,000 BTU air conditioner with heat pump
Suburban 19,000 BTU furnace with automatic ignition
900W microwave
Interior 3-burner stove
Exterior propane grill
20-gallon water tank
6-gallon water heater with direct-spark ignition
Exterior shower fixture
Group 27 battery pack
Privacy curtains
Powered roof vent
Stereo
Prep table (hangs outside next to the grill)
2-piece door
Two 20# propane tanks with automatic regulator
Spare tire (with a steel wheel)
Electric brakes
...plus the features listed in Standard Features
Prices and inventory are subject to change without prior notification.

Back to New Sales

Top of Page

(2012 models shown)
Privacy © 2009-2018 Roberts Sales. All rights reserved.