Help Choosing the Right Type of Camping Trailer
In theory the perfect camper would be light-weight and have a low-profile for easy towing, have lots of storage and living space, have every possible feature you need, be easy to to maintain, be able to set itself up, and be free. Since no perfect camper exists the following types of campers try to encompass everybody's different camping styles and needs.
Major Camper Types:
Fifth Wheel

Fifth-wheels are usually the largest trailers but smaller ones that save on weight while offering fifth-wheel towing stability are available, too.
(There are too many brands to even venture a comprehensive list, but here are Forest River's fifth-wheels:)
Travel Trailer


These hard-side trailers have the widest range of sizes and features from Micro-Lite style 10' trailers to large garage-style toy haulers. Again, there are too many to list but here is what Forest River offers:
Hybrid (Expandable)

This is a travel trailer with bunks that expand out of the body of the trailer; the idea is to save on travel length while improving sleeping space and capacity.
Hard-Side Pop-Up

These look like a tent trailer, only with hard shells where the tent normally goes.
Tent Trailer ("Pop-Up")


This is the standard fold-down trailer with a hard roof and box that opens and expands to roughly double it's starting length.
Soft-top Tent Trailer

These are generally lighter than standard pop-ups because they have a soft fabric top instead of a hard roof.
A-Frame (or "Triangle" trailer)

These are named after, and mimic the shape of, an A-frame cabin. They are very easy to set up but the trade-off is decreased living space in other comparably-sized types.
Teardrop

These are typically the smallest hard-side camping trailers.
These charts compare the different types of camper relative to each other (keep in mind these are generalities and specialty campers within each type may defy common knowledge).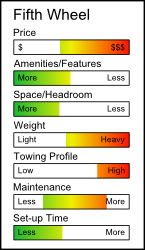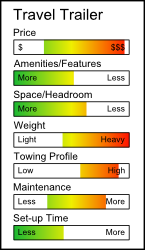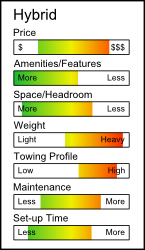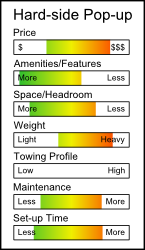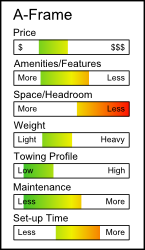 Weighing the pros and cons
As the charts illustrate, there will be trade-offs across various aspects of the camper types. The lightest campers will generally have the fewest features. The largest campers usually come with the largest price tag. Campers that require little set-up (i.e. the only set-up is leveling/unhitching/power hook-up/etc. at the campsite and no roof-lifting or other structural set-up) typically also have the highest towing profiles. Finding the balance between all of these features that suits your particular needs is key; ask yourself the following questions to help find that balance:
Some questions to think about
Will we go on mostly short weekend trips or week-long (or longer) trips?
Will we stay in one place for the entire trip or move often (even daily)?
Will we camp mostly in the mountains or on flat land? (And what kind of roads lead to our campsite)?
Will the camper be used mostly for sleeping, for entertaining, or as a base camp for other activities?
If it starts raining/snowing/wind blowing/etc. --does the camper have enough room to hold everybody on the trip for an extended time?
To help narrow down the choices, think about:
Will all of the features we're paying for be used? (If not, are the features we

will

use worth the price for a certain type of camper or would a different type of camper work just as well?)
Will I be comfortable pulling this type of camper up a mountain pass?
Will I be looking for a bigger tow vehicle by the end of this? (If so, you're not alone!)
If it looks like a fifth wheel, travel trailer, hybrid, teardrop, or soft-top tent trailer is your best option I'm sorry we won't be able to help you. To aid your search all of the brands listed above have links to their respective manufacturers. If it sounds like a fold-down camping trailer or A-frame trailer suits your needs best, please check out our Camping Trailer Buyer's Guide or go to Current Models to find the best model for you.

Back to Articles & Tutorials

Top of Page
Privacy © 2009-2023 Roberts Sales. All rights reserved.