What's New
2022 Model Year Price List - version 2
3-2-2022
An updated 2022 Price List is available online at All Models on One Page and in pdf format here:

(80k)
Bed Lock Latch Change
2-15-2022
Flagstaff discontinued the "bed lock latch" that keeps the bed from sliding back into the camper box during set-up.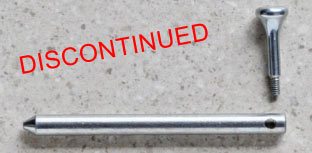 Flagstaff and Rockwood's 2022 models now use a "bed lock glide".
Here's more information about the Bed Lock Latch Situation.
2022 Brochure
1-3-2022
The 2022 Brochure is available to download here:

(13.3m)
Minor Website Menu Change
12-2-2021
The main menu's first tab now says "FLOOR PLANS" instead of "2021 Models".
Rather than change the main menu's first tab every year (2021, 2022, 2023, etc.), we're going with "Floor Plans" because, well, those are the floor plans that Flagstaff currently offers.
Also, because of the Early Model situation, the available floor plans could be different from year to year, based on whether it's an early model or a full-fledged model year camper.
2022 Model Year Price List -
(obsolete)
11-12-2021
[UPDATE - A new price list is in effect as of 3-2-22]
The 2022 Price List is available online at All Models on One Page and in pdf format here:

(80k)
Model Discontinuations -- Covid Edition
8-3-2021
Camper delivery delays continue with plethora issues plaguing the factory, including parts and worker/driver shortages. In an attempt to speed up production by streamlining the number of models offered, Flagstaff has stopped taking orders* for the following six models:
*(It's our understanding that the factory will build these models in their backlog of orders, but otherwise they have been discontinued)
627M - The MAC series loses their only 14' interior, leaving Flagstaff with just the HW27KS at the 14' size.
28TSCSE - First as the BR28TSC and then the 28TSCSE, this layout had a good 15 year run. However, the "28"--as a double-toy-hauler pop-up and at over 26' when closed--took an exorbitant amount of time to configure the factory for its production. This, coupled with a more specialized utility that resulted in low sales numbers, sealed its fate.
T12RB - This one hurts a bit more than the others because the T12RB was one of the original floorplans when Flagstaff introduced the T-series back in 2011. It's a great layout in small package. It's also been a steadfast seller through the years and was the only remaining T-series without a storage trunk. For anyone wanting a relatively light and nimble a-frame, this was the go-to model. We understand the surviving T12RBST offers more storage with the trunk, but it's too bad they couldn't both carry on.
T12RBTH - This was the only T-series with a 4 1/2' deck on the front. It never really took off like expected, despite it's unique features.
T21FSHW - It's neat when Flagstaff tries new things. Like a camper without a dinette. It's also understandable when those new things don't work out.
T21TBHWOR - Oh, T21TBHWOR, we barely knew thee. This was a great idea but a late 2020 introduction was just bad timing. Maybe in the future this excellent model will get a second chance (and a better/shorter model name).
For posterity, here's the What's New Archive

Top of Page
Privacy © 2009-2023 Roberts Sales. All rights reserved.