Pop-Up Trailer 101
Free camper demonstration and discussion
Have you considered renting or buying a pop-up trailer but not knowing how to set up the camper or what may be involved with pop-up camping has kept you from trying it?
Our FREE camper demonstration and discussion is designed to introduce tent campers and new campers alike to the benefits and operation of pop-up campers.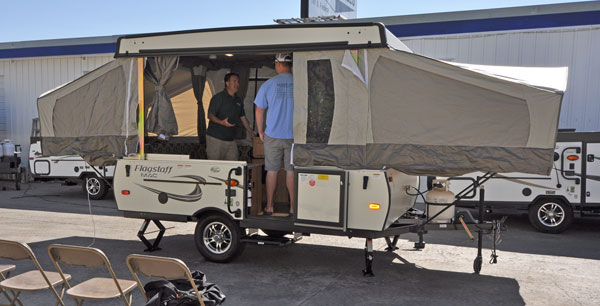 Pop-Up 101 lasts about an hour and includes:
Demonstration of how to open and close a pop-up trailer
Demonstration of various pop-up trailer amenities including furnace, stove, grill, fridge, water system, and lights/battery system
Details about how to hook-up a trailer to a tow vehicle
Discussion of recommended supplies for pop-up camping
Pros and cons of different camper models and features (how dinette placement affects usability, shower/no shower, how much space is "enough"?)
Pros and cons of renting vs. buying a pop-up
Tips regarding routine maintenance of pop-up campers
Q&A session
Pop-Up 101 Details
Cost: FREE
When: Hopefully returning in 2022
Where: Our store at 741 S. Federal Blvd., Denver, Colorado (map available on Contact Us page)
What to bring: Yourself and any questions you may have
No sign-up necessary; just be here by 9AM
(if you're running late--no problem, please join us when you get here)
Rentals and Sales Demonstration Note
All of our rentals and sales include a free demonstration of the topics covered in Pop-Up 101. If you are renting or buying a camper from us and would like to come to Pop-Up 101 as an introduction to camping trailers then you are certainly welcome, but all rental and sale customers receive their own demonstration with their individual camper. Thank you!

Back to Articles & Tutorials

Top of Page
Privacy © 2009-2023 Roberts Sales. All rights reserved.