Rental Camper Availability
We rent campers year-round--this chart refers only to "high season" months.
To make a reservation please call us at 303-922-6221.
Depending on our schedule we may not be able to accommodate last-minute rentals even if the following chart says a certain camper is available*.
If the dates you want are booked-up, please call or email us to check for any recent cancellations or to go on our waiting list. Thank you!
(please click "refresh"--or press Ctrl + F5 on your browser--to be sure the chart is up to date)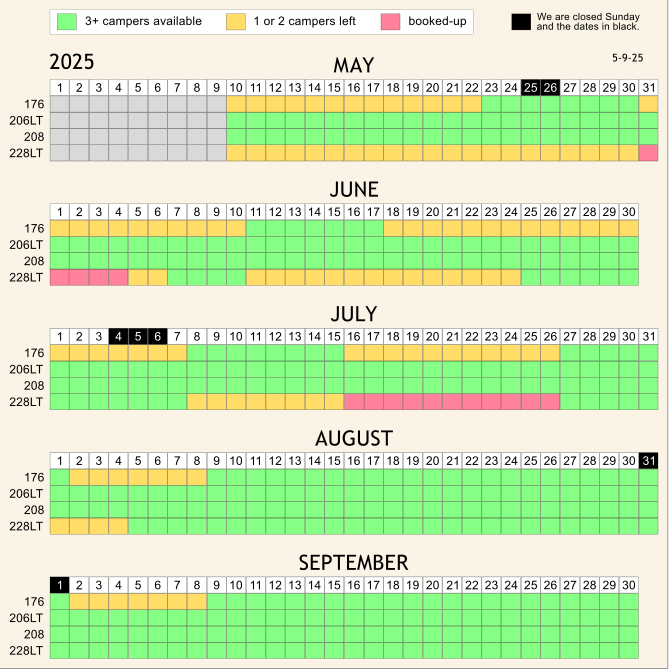 October through March: we rent campers year-round--this chart refers only to months where we may book-up. However, reservations are still recommended during autumn, winter, and spring.

Question: "If you rent campers by the week, how can you be booked up for only one day on the availability chart above?" Please see: FAQ - Rental Chart Question
*
For example, if we have six trailers reserved on a given day and we have only six time slots to demonstrate and send those campers, a seventh (walk-in) customer may not be able to pick up a camper that day even if the desired camper is available. Even though we have the camper on the lot, it may not be serviced and ready to go; if it were serviced and ready to go we still need an hour sometime during the day to demonstrate and send the camper.
That being said, if we have more
reservations
(not walk-ins) during a day than we have time to demonstrate them, we will double up demonstrations (or hire extra people!) in order to get everyone sent on the day they reserved.
Bottom line: while we try to accommodate last-minute plans as much as possible,
reservations (even a few days ahead of time) are always preferred
--thank you!

Top of Page

Back to Rentals
Privacy © 2009-2023 Roberts Sales. All rights reserved.