Water Damage Repair
Fixing an '80's era Starcraft pop-up
Mid-1990's
This 1987 Starcraft was stored in the mountains during the winter. Unfortunately one of the roof latches was not latched and the small gap that resulted allowed water from melting snow to drip into the camper for several months. The resulting water damage destroyed the floorboard and much of the box frame in the exposed corner. The countertop was ruined as well.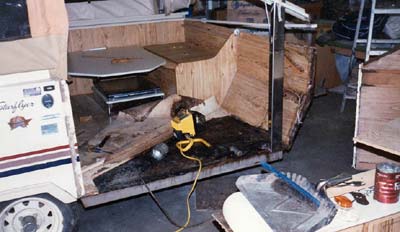 Water damage this severe can be disheartening but--as with most things--if you start with a good foundation the rest can be rebuilt from there. We pulled the linoleum (which was undamaged) out of the way to splice in a new floorboard. The entire corner from wheel well to dinette received new plywood.
The front panel needed new framing as did the door-side front wall. Once the framing was complete and the exterior aluminum skin reattached we glued the linoleum back in place. New cabinetry and a new countertop completed the repair.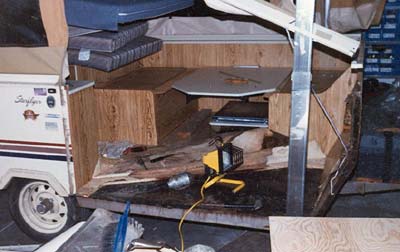 Here is the nearly-complete repair. The countertop is the only missing piece. What looked like a somewhat hopeless situation turned out to be a relatively simple (though time-consuming) repair.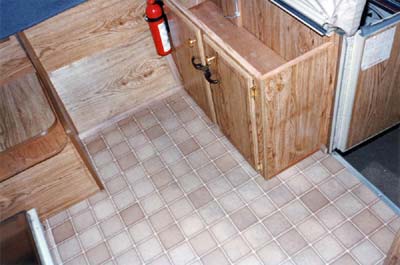 Back to Service

Top of Page
Privacy © 2009-2023 Roberts Sales. All rights reserved.