Hot Water Package
The hot water package includes a 6-gallon water heater with automatic ignition (no pilot light to light), an exterior shower, and hot/cold water to the sink.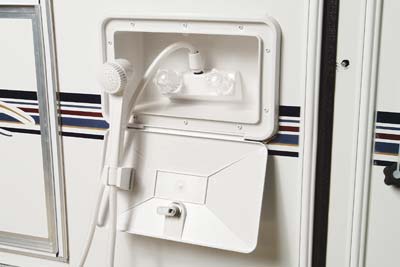 A hot water system is standard in all Flagstaff High Wall, Classic, and T Series campers. In the MAC and SE series any model with an interior shower will also have an exterior shower installed. For other MAC and SE campers a hot water system can be installed as an option (excluding the 176LTD, 206LTD, 206LT, and 176SE).
The most economical way to get a hot water system in a camper is by ordering a camper with the hot water package from the factory. For older campers or for stock campers that were not ordered with hot water we can retro-fit a camper with hot water at our store. The price is quite a bit different, though, as explained here: hot water price explanation.
Keep in mind that a hot water system is not mandatory. Many people use the stove to heat water. Not only does this save storage space and weight inside the camper but also there's a certain charm to doing some things the old-fashioned way.

Back to Options
Privacy © 2009-2023 Roberts Sales. All rights reserved.