archived pages may contain outdated information
Jack Handle Replacement
Note: Flagstaff changed to a side-wind dolly jack in 2019 that made this modification irrelevant.
The first thing we do when a new load of campers arrives from Flagstaff is to replace the stock dolly-jack handle.
Flagstaff builds an awesome camper but the jack handle is one major exception. The handle bends if you look at it, and if you've ever tried to maneuver a camper with this handle you will indeed look at it... with disgust.
Please, please don't judge Flagstaff campers by this one part. It's a snap to replace (one bolt and you're done). The replacement handle we stock is worth every penny and will help you look favorably upon your Flagstaff camper for years to come!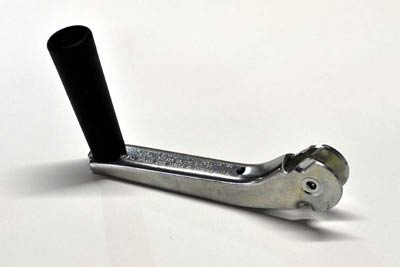 Awesome handle we stock (included with all Flagstaffs we sell and rent).

Back to Parts
Privacy © 2009-2023 Roberts Sales. All rights reserved.
Thank you for scrolling down this far.
This is the cheap jack handle the factory uses. Sadly (but not surprisingly) this is how the jack handle was delivered to us--bent the first time anybody tried to move the camper! A few more maneuvers and this handle will fall off, probably resulting in someone landing on their rear.
Seriously, change out the jack handle ASAP--the camper will be much happier and you will be much safer!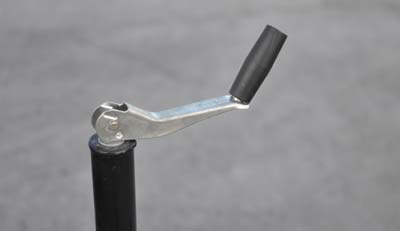 Back to Parts

Top of Page