Raise Frame
Lift Kit for Spring-Leaf and Torsion Bar Flagstaff Campers
The raise frame option lifts the camper box, improving the clearance between the ground and the camper (particularly the camper's bumper).

Leaf-Spring Lift Kit
Flagstaff's LTD and MAC Series use a straight axle with leaf-spring suspension. To raise the frame the axle is moved from on top of the leaf-springs to the bottom of the leaf springs. This lifts the camper box approximately 4".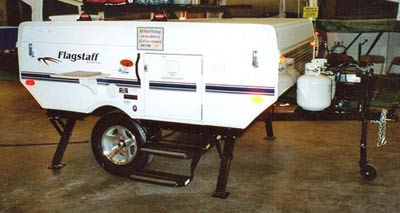 4" leaf-spring raise frame example
NOTE: The axle is cambered for proper tire wear. New axle mounts must be welded to the axle exactly 180 degrees from the existing axle mounts such that the camber stays the same once the axle is mounted under the springs. Otherwise, merely flipping the axle from the top of the springs to under the springs will result in an up-side-down axle camber and the camper may track erratically and exhibit premature tire wear. This procedure is included in our raise frame option but we note it here in case someone wants to do their own lift.
Torsion-Bar LIft Kit
Flagstaff's Classic, High Wall, and T-Series use a torsion-bar axle that mounts directs to the frame (the suspension is provided by the torsion action inside the axle). To raise the frame the axle is temporarily removed and extra mounting plates and full-channel risers are welded to the frame. The risers can be 2", 4", or 6" high, but the most common lift is 4".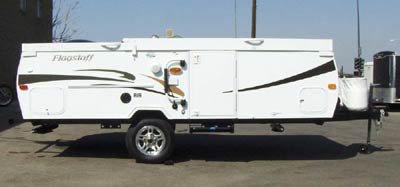 4" torsion-bar raise frame on a T-Series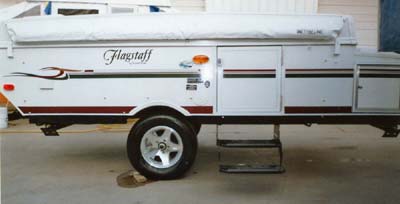 4" torsion-bar raise frame example (with 13" wheels)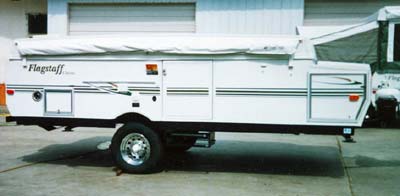 8" torsion-bar raise frame example (with 15" wheels) (8" non longer available)

Back to Options

Top of Page
Privacy © 2009-2023 Roberts Sales. All rights reserved.