Rear Receiver
The rear receiver offers an alternative to roof-mounted bike racks as well as the ability to tow a second trailer behind the camping trailer.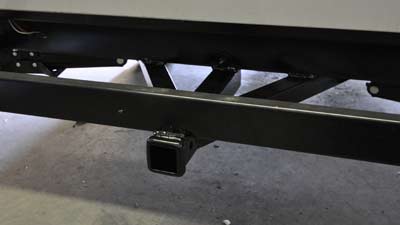 Bike Rack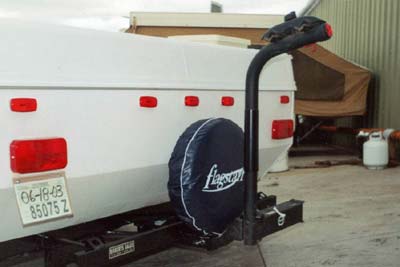 The most common application of the rear receiver involves a bike rack. The benefit of a receiver-mounted bike rack:
PRO
Bikes are easier to access in comparison to lifting the bike on top of the camper roof.
The same bike rack can be used with the camper or with just the tow-vehicle.
If you already have a bike rack the cost is much less for a rear receiver than for a roof-mounted rack and bike-yoke system.
CON
The bike rack and bikes hanging off the back of the camper affects the camper's tongue weight more than if the bikes were mounted on a roof rack. This is not an issue so long as the tongue weight does not drop below 10% of the total weight of the trailer (weight details).
The receiver-mounted rack attaches to the camper in only one spot (and typically with a pull-pin) so the bikes may shift and bounce more than on a roof-mounted bike rack where the rack is mounted in four positions. One way to reduce this effect is to tie down the bikes to the trailer using the roof latches as anchors.
Tandem Towing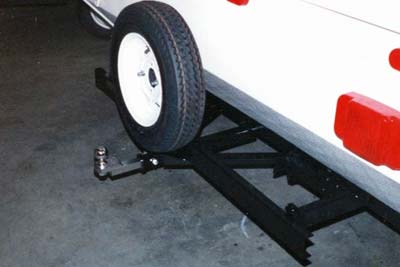 1 1/4" shown, 2" also available
To tow a second trailer, make sure that the second trailer weighs less than the camping trailer. If it does not the rig will be unstable and could result in a "wag the dog" situation. Also, make sure that the tongue weight of the second trailer does not push on the rear receiver enough to create negative tongue-weight on the camping trailer. This will also result in an unstable towing situation (weight details).

Back to Options

Top of Page
Privacy © 2009-2020 Roberts Sales. All rights reserved.