Our History
In 1967 Bill and Merle Roberts purchased a tool and equipment rental company named Southwest Rentals. They ran the store with the help of their daughter, Debbie, and Bill's sister, Lindy.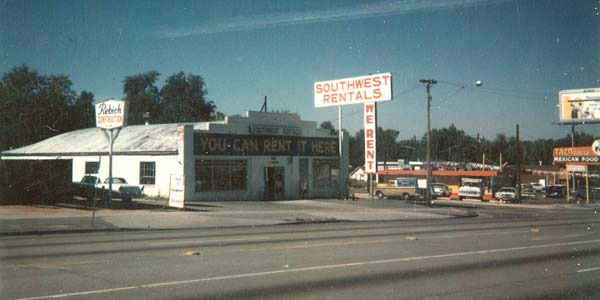 The original location (the Taco House is still there!)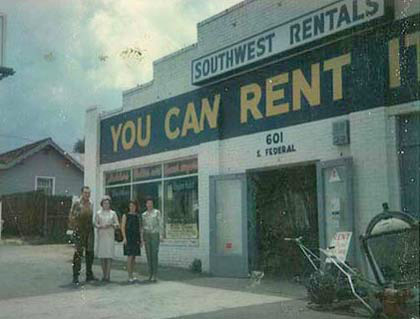 Bill, Merle, Debbie, and Lindy in 1969
In 1969 Bill and Merle purchased their first four Starcraft campers and began renting pop-up trailers.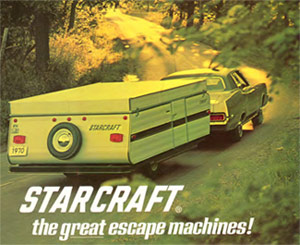 In 1970 Debbie married Frank Huntley (whom she met at Colorado State University--Go Rams!). Frank started working for Southwest Rentals after being discharged from the Army in 1971.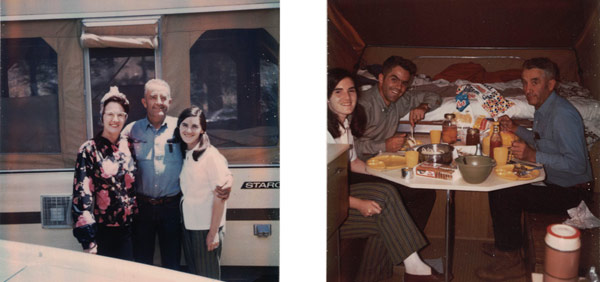 Debbie and Frank camping with Frank's folks, Paul and Ellen Huntley
Bill and Merle had a simple philosophy: work hard and never make a promise you can't honor. Business thrived and in 1972 Southwest Rentals moved to its current location at 711 South Federal.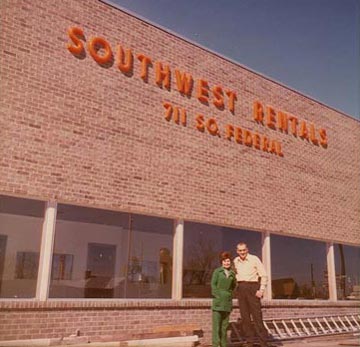 Bill and Merle with the new building, 1972
In 1978 Bill made the camping trailer sales and rentals business of Southwest Rentals its own company, Roberts Sales. Camping trailer sales and rentals continued to grow through the '80s.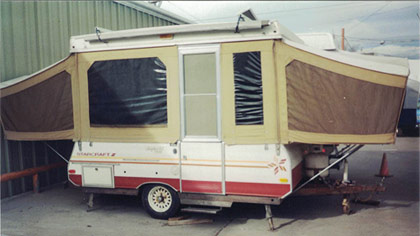 1982 Starcraft
In 1981 a new building for servicing campers was added next door, at 741 South Federal.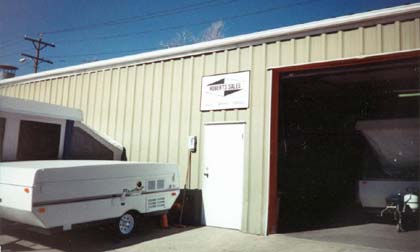 Service building
In 1990, after two decades with Starcraft trailers, Roberts Sales changed to a new camper brand, Flagstaff.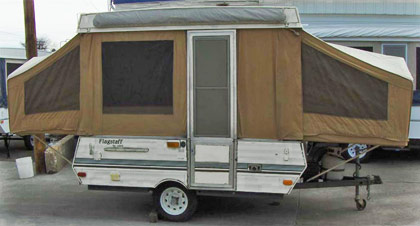 1991 Flagstaff
In 1991 Frank and Debbie's son, Mark, started working at the store during summer and winter breaks.


Roberts Sales and Southwest Rentals in 1994
In the early 2000s a storage lot was built at Mississippi and Lipan to handle overflow campers.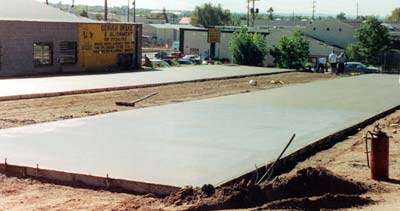 Lipan lot flatwork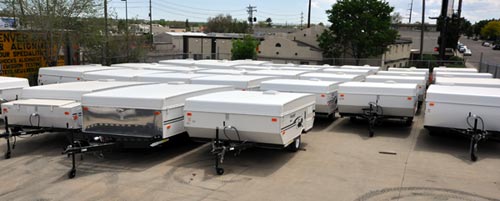 Lipan lot with campers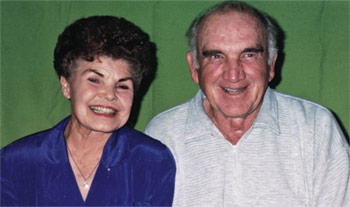 Bill passed away in 2003 and Merle followed in 2007 but their legacy of hard work, dedication, and integrity lives on.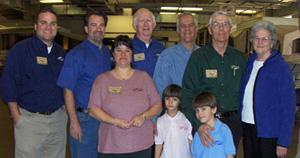 Roberts Sales crew at the trailer show, 2010
In 2008 Southwest Rentals concluded its rental business; that building now serves as home to Blacktop Choppers (the motorcycle shop owned by Frank and Debbie's younger son, Matthew). Roberts Sales shares it's offices with Blacktop Choppers.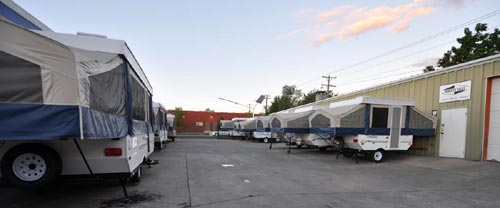 Roberts Sales' upper lot, 2011
Today, Frank and Debbie lead the company with their son, Mark, and son-in-law, David, as managers. Their daughter, Brenda, helps during trailer shows and their daughter-in-law, Lynette, helps with office management.
Many things have changed since 1969 but the idea of helping families and friends go camping and get out in nature to relax and rejuvenate remains as strong as ever.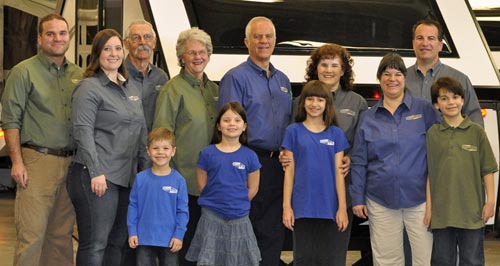 Roberts Sales show helpers at the trailer show, 2015.
L to R: Mark, Lynette, Chuck, Ethan, Kaloma, Emily, Frank, Sara, Debbie, Brenda, David, and Alex.


Top of Page

Back to About Us
Privacy © 2009-2023 Roberts Sales. All rights reserved.
Not much of an Easter egg, but still pretty cool: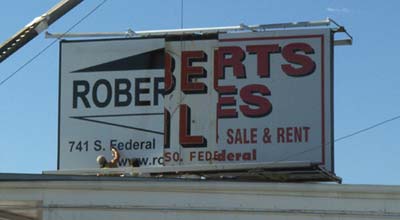 Three generations of signage when the new panels were being installed, 2011

Top of Page
A few more bonus photos
These pictures show part of the construction of the new building at 711 S. Federal in 1971-1972. The first one shows the caisson-drilling truck ready to get to work. The second photo shows Bill (on the left) overseeing the start of a concrete pour.
We also found some pictures from 1967 showing Bill's idea for a new sign. He took three photos from various street vantage points and drew in where the proposed sign would be.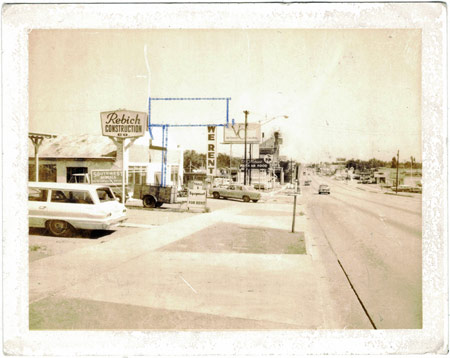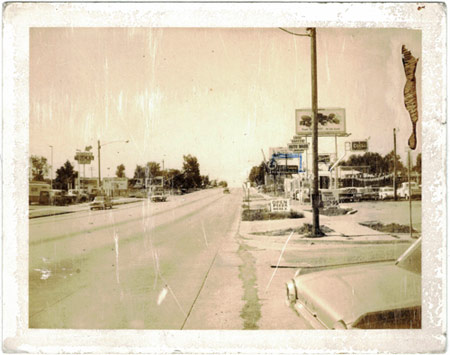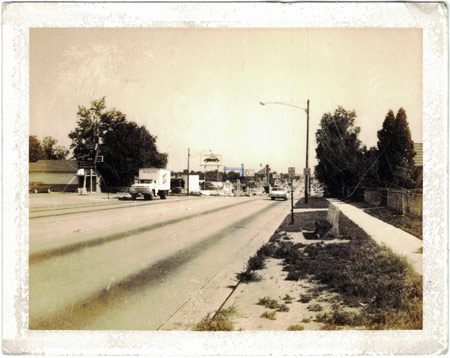 Schlitz truck and a billboard for the original Volkswagen Beetle!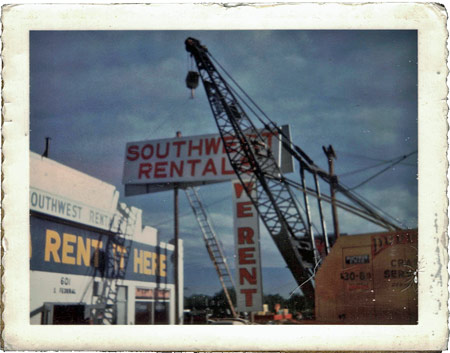 Installing the sign. The finished product is back at the top of this page.

Top of Page