Flagstaff 206LT
A series unto itself*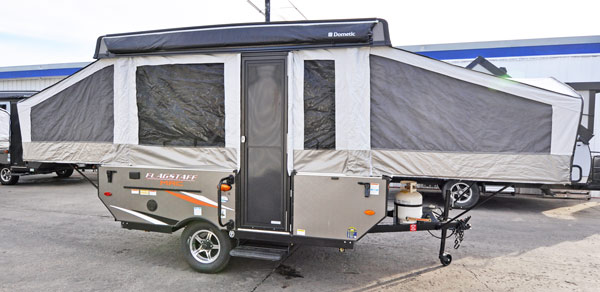 (2021 model year shown with optional 3-burner stove)
*"What is a 206LT and why isn't it in the Flagstaff brochure?"
The 206LT is an upgraded 206LTD with several options installed at our store. The 206LT can't be found in a Flagstaff brochure because it's a model we use only at Roberts Sales.
The specific items on the 206LT that differ from the 206LTD:
"Why make the 206LT in the first place?"
The 206LTD has a great layout and, in our opinion, should be a full-fledged MAC camper. Since a regular MAC-series 206 from Flagstaff is not available we thought this would be next best thing: we'll start with a 206LTD and add a few key features we find most beneficial. The result is a camper that fits between the LTD Series and the MAC Series.
Highlights
Includes a full walkway from front to back for easy access to both bed ends.
Lots of easy-access storage space and counter space.
Specifications
Main Features
Insignia 1.6 cu. ft. 12V refrigerator
Suburban 19,000 BTU furnace with automatic ignition
Interior/Exterior 2-burner stove
10-gallon water tank
Group 27 battery pack
110V heated 3.5" foam mattresses
Privacy curtains
Standard roof vent
2-piece door
Awning
20# propane tank
13" aluminum wheels

(spare tire has a steel wheel)

Spare tire
...plus the features listed in Standard Features
Comparable Models
206LTD - Identical layout but with a few less features (specifically: no front stabilizing jacks, no overhead cabinet, no ceiling valance, and a 2-burner stove instead of a 3-burner).
206M - Similar interior layout, but in the MAC Series and with a front storage trunk.
176LTD - A basic, 8', LTD camper with smaller dinette and less counter space. It weighs a bit less, though: only 1380 lbs.
Please note: this is a "brochure page" intended to provide information about a particular model Flagstaff offers--it does not necessarily mean we have this model in stock. Any pictures on brochure pages represent a given model's design but do not necessarily depict an individual camper available for sale and may contain optional equipment. Please see "Features" (above) for included equipment and please check New Campers In Stock for our current inventory.Thank you!
Weights and capacities are estimates and may vary based on how individual campers are outfitted. In Flagstaff's brochure they note: "The load capacity of your unit is designated by weight, not by volume, so you cannot necessarily use all available space when loading your unit."

Back to Current Models

Top of Page
Older Photos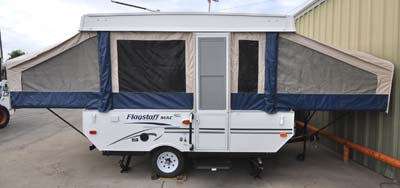 Privacy © 2009-2023 Roberts Sales. All rights reserved.