Order Waiting Period
What to expect when you're expecting an ordered camper to arrive.
(Also, "What's taking so long?!")
COVID-19 COMPLICATIONS
The extreme demand for RVs currently outweighs the industry's abilty to supply them. Increased production does not help much because raw materials and parts are also scarce at the moment. Flagstaff/Rockwood is experiencing an unprecedented back-log of camper orders. Orders placed now may be delayed nine months (or more).
2022: Continued suply chain and labor issues makes most of this article obsolete, but until things get back to normal--or a "new normal"--we'll wait to update this page.
Feb 2018
Our customers often ask, "How long does it take to order a camper?" The answer used to be "an average of 35 days." Due to increased demand for campers in general and Flagstaff (and Rockwood) campers specifically, today we say "about two months" even though the actual average is 40 days*.
"Why say the order waiting period is 'about two months' if the actual average is forty days?"
The order waiting period depends on many factors like the time of year, what campers the factory currently has in stock, factory schedule for building campers they don't have in stock, and whether or not the transport company has an available transport trailer and driver. While the historical average is indeed 40 days, most recently the waiting period average is closer to 60 days.
We started tracking the order waiting period in 2001. The average waiting period from 2001 to 2016 was 33.76 days. Most loads** arrived between four weeks and six weeks after an order was placed. The average also included some loads that showed up just a week after placing the order as well as two loads that took 76 and 92 days to arrive. Prior to those two anomalies the longest wait period we experienced (through 2012) was 59 days.

Then 2017 happened.
The first four loads of 2017 took over 60 days to arrive. Although this was worrisome to us, those loads included the custom-made 825D which we expected to take longer given the nature of a custom build. However, in late spring--even with non-custom orders--the deliveries clocked in at 86, 95, and 96 days!
The next four loads were ordered in March (before the 86, 95, and 96-day delays alerted us to a major problem in load deliveries). When we ordered these campers we were still confident in our answer about the wait period: "The average is 35 days, but that includes some orders that took a couple of weeks to arrive and others that took two months." Had we known what was about to happen we would have warned our customers better. And that's why we're writing this article now.
The four loads ordered in March took 102, 106, 126, and 128 days to show up. 128 days! Over four months from the day we ordered the campers to the day the driver unloaded them at our store. All of the campers on the 128-day load were spoken for; their prospective owners having been told to expect a wait that averaged 35 days--maybe two months at the latest--as we had always been able to say.
"What's taking so long?!"
In 2017 a confluence of several factors led to the worst delays we'd seen since becoming a Flagstaff dealer in 1990.
First, with the relatively strong economy came an increased demand in recreational products, including our camping trailers, that exceeded the industry's ability to supply campers in a timely fashion.
Second, Forest River expanded their successful Sports Enthusiast Series and their hard-side a-frame series creating more choices--and more demand--for these lines.
Third, Jayco--the parent company of Starcraft, whose camping trailers had been around since 1965--ended production of all Starcraft pop-up trailers. (RIP, Starcraft pop-ups; we knew you well.) The loss of Starcraft placed extra demand on Forest River brands, especially since Starcraft had similar models to the Sports Enthusiast series and Forest River's a-frame campers; anyone looking for that type of camper now had one less option (and thus even less supply) available.
Lastly, and most directly influencing the long delays of 2017, one of the transport companies Forest River uses to deliver their camping trailers had several tractor trailers break down at the same time with not-easily-repaired issues. We are not privy to the full details but we were told that eventually Flagstaff/Rockwood had to send their own technicians to the transport company to assist in the trailer repairs. Even with repaired tractor trailers, the back-log of campers that piled up during the break-down took months and months to recover from.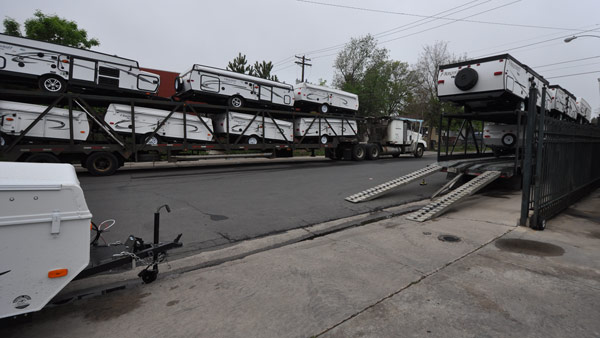 For our part, as soon as we learned about the 90-day delays, we started looking for outside transportation options. We found an excellent transport company that were able to haul low-boy loads almost immediately after the campers were completed. In the fall they delivered four loads with waiting periods of 20, 30, 30, and even 11 days!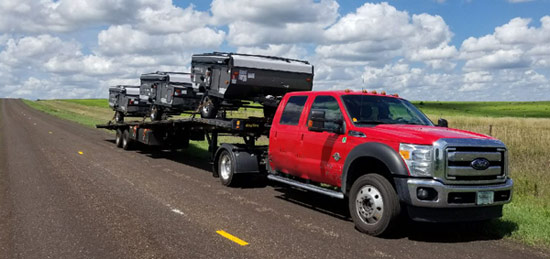 With the outside transport company's deliveries offsetting the long delays during the summer, 2017 ended with an average order waiting period of 70.59 days. If we remove the six exorbitantly late loads from the total, the average for 2017 drops to a slightly more reasonable 60.89 days from order to delivery.
A fast, efficient transport company is only part of the answer. We also started ordering the following model year's campers sooner than ever before and in greater quantities. Our hope is that having more orders in the works earlier (and having more campers on our lot earlier than usual) will put less pressure on the factory to fill orders when the spring and summer demand peaks.
The downside to this is that we don't always know how many of each model we'll need at a given time of year. Despite our record-tracking and analysis we can't always predict which models may be in high demand at a given time. Having a lot of models in stock doesn't help much if we don't have the correct models that people want. So ordering campers specifically for an individual customer is still necessary.
This is where our customers come in
We have a cut-off date of April 1st for the show season's options discount***. The show discount is intended to help our customers customize their camper with their desired options but also provide a nominal incentive to finalize their purchase plans before the busiest part of our year. Prior to 2017 the April 1st deadline helped us place any special-orders or factory-customized camper orders in time for delivery before Memorial Day.
In 2017 that plan failed us and, in turn, many of our customers.
So far the 2018 deliveries have an average order wait time of 53.6 days. If that holds true all year an order placed on April 2nd would be delivered on May 26th (too late for Memorial Day since we need time to prep and demonstrate the camper to our customer). Also keep in mind the 53.6 days is just an average. The most recent load we received took 98 days to be delivered. So even if the transport issues have been lessened, the delays due to increased demand still linger and do not appear to be going away anytime soon. [Update 2-15-18: The load arriving today took 69 days to arrive--so there's hope deliveries are getting (relatively) shorter.]
This problem is made worse during spring and summer, when extra demand for campers exceeds the factory's capacity. With much longer lead times than we've experienced in the past, the best solution--or at least the solution that's under our control--is to get an early start to ordering campers. We understand ordering a camper when it's still snowing in Colorado may seem counterintuitive, but that's going to be part of our new reality.
In the early part of the year, please do not wait until April 1st to order a camper unless you have the flexibility in your schedule to allow for a (potentially) long wait. During the summer, please understand that there is a possibility that wait times may exceed three--or even four--months.
We're ordering campers earlier and in greater numbers than ever before, but that will not solve all of the long-wait-period issues. If our in-stock campers or campers currently on order do not suit your needs, the sooner you know what camper you would like to order and the sooner you place your order, the better. Thank you!

*As of the day this article was written, the average ordering wait period from our first record in 2001 to the most recent delivery is exactly 39.76 days from the day an order of campers was placed to the day the campers arrived at our store. (Back

)
**A "load" is a group of campers shipped to a dealer on one tractor trailer. Some tractor trailers have two decks that haul between five and ten campers, depending on the models involved. Some trailers have a single deck, known as a "low-boy" load, and usually includes four campers. (Back

)
***During the show season (January through April 1st, or April 2nd if April 1st occurs on a Sunday), campers purchased at Roberts Sales include a discount for options installed on that camper. Details available at Trailer Show Information. (We can order campers after April 1st, too, but any options added to the camper at that point would be full price.) (Back

)


Back to Articles & Tutorials

Back to New Campers In Stock

Top of Page
Privacy © 2009-2023 Roberts Sales. All rights reserved.