Flagstaff vs. Rockwood
What's the difference between brands?
Is Flagstaff the same as Rockwood?
Except for certain material colors, yes. Flagstaff and Rockwood are sister brands made by Forest River. Both brands are built in the same factory with the same parts, specifications, and floor plans. The only difference between brands is the color scheme; Forest River uses different colors in the tent, body graphics, interior fabrics, and (sometimes) linoleum floor and countertops to differentiate the two lines*. For every Flagstaff model there will be a corresponding Rockwood model** (the model number will be slightly different, though--details below).
Here's the factory-provided brochure photos for the two brands:









(2015, 2016, & 2018 models shown)
Occasionally we'll receive a Flagstaff camper with an errant Rockwood sticker or model number on it. Here's one example:

Top of Page
Why does Forest River build two nearly identical camper brands?
For a few reasons:
1. To offer more variety (if only in terms of color scheme). Flagstaff's color scheme may appeal to one person but not appeal to a second person. That second person may like Rockwood's color scheme better. In this case two choices are better than one.
2. To double-up the number of dealers in a given area. RV dealers typically have a geographical area they serve and most manufacturers respect this "territory" so that their dealers don't have another dealer with the identical product right across the street. Although Flagstaff and Rockwood are the same camper, technically they are different brands. This allows Forest River to have two dealers with similar (but not--strictly speaking--identical) products in the same area. GM uses a similar approach with its Chevy and GMC trucks.
3. Legacy. Rockwood pop-ups started in 1975. The parent company, Cobra/Van American, started Flagstaff as a "value line" in 1988. Rockwood had a few special models and trim packages that weren't available to Flagstaff dealers. So even though both brands were in the pop-up market and made by the same company, they didn't compete directly with each other in terms of offering identical products. So at the time it made sense to have separate dealers with their own, separate line of campers.
In 1996 Forest River bought Rockwood and Flagstaff and the two brands were standardized to the system we have today (where both brands have the same models and trim levels). Since the campers were now the same, one of the brands could potentially be discontinued and all campers be produced under the one surviving brand. However, the dealer network for each brand was already firmly established by this time. Instead of discontinuing one of the brands and possibly cutting half of their dealers, Forest River continued both brands even though any differentiation (besides color scheme and graphics) was gone.
Here's an example of the different graphics between Flagstaff and Rockwood:


Top of Page
Flagstaff and Rockwood corresponding series & model names
Models with a dark background are discontinued. They remain on this list to help with used purchase questions. ("I found a 2014 Flagstaff 207 on Craigslist--what is the Rockwood equivalent?" Here you go:)

Top of Page
Are other Forest River pop-ups the same as Flagstaff and Rockwood?
In 2002 Forest River acquired the Palomino brand. Forest River then acquired the Coachmen brand (including Clipper and Viking) in 2008. Although owned by Forest River, Palomino and Coachmen operate as separate divisions with their own manufacturing facilities apart from Forest River's original brands, Flagstaff and Rockwood.
These various brands share some items (like parts that benefit from commonality and volume purchasing) while other aspects (like floor plans, models, color schemes, and some specifications) remain distinct.
[Update 12-2018 --Please note Palomino no longer has tent campers listed on their website. We're keeping the Palomino references below for posterity.]
Variety - In 2016 Flagstaff and Rockwood offered 35 floor plans. With the upgraded 206LT, the custom-made 176, and the shower variations of the MAC series' 228, 228BH, 228D, and 228BHSE, we were able to offer 41 Flagstaff models. By contrast, Clipper had 14 models (Viking had the exact same floor plans, so 14 models) and Palomino had 12 models to choose from.
Exclusive models - Flagstaff and Rockwood have certain models that the other three brands don't have. (And Palomino, Clipper, and Viking have certain models that Flagstaff and Rockwood doesn't have). For example, the High Wall Series is only found with Flagstaff and Rockwood. Flagstaff, Rockwood, Clipper, and Viking all have a-frame campers, but Flagstaff and Rockwood have more a-frame models to choose from. Palomino had more off-road models to choose from but Flagstaff and Rockwood are the only brands with 8 1/2' toy-hauler decks. And on and on it goes...
While all five brands have some overlap with nearly identical models, each brand (or brand pairing: Flagstaff/Rockwood, Clipper/Viking) also has unique floor plans or features that no other brand has.
Another example of exclusivity involves the Palomino 14ULC. The 14ULC was a pop-up with a traditional pop-up box, roof, and tent sides but it's missing the bed ends. This would save on set-up time and weight but the trade off is less sleeping space. Palomino had an interior picture of the 14ULC showing a rear tent panel (in lieu of a bed):
Aesthetics and major component comparison
Palomino had a slightly more spartan exterior than the other brands. The tan and black exterior with black wheels clearly differentiated Palomino from the other four brands. The powered roof vent (in the front of the camper on the left and on the rear of the camper on the right) was the same one used by the other four brands. The frame on the two campers below looks like the same Lippert frame used in Flagstaff's T-series and Rockwood's A-series. The one-piece door was also the same as almost all other Forest River pop-ups. The roof and body design was slightly different from the other brands.
Inside, Palomino used the same Dometic fridge and Suburban furnace as the other brands. The Suburban stove was the same, too. The sink/galley arrangement was different from the other brands.
Clipper and Viking share the black-trim styling that Flagstaff and Rockwood use on their Classic/Premier series. The roof and bulbous body shape are different from Flagstaff/Rockwood curves. The bunk-end bed bow is rounder, too. The stepper door is similar to the one formerly used by Fleetwood camping trailers.

The Clipper and Viking pictures directly above also show one of the more drastic differences between brands: the bed support system. Clipper and Viking use a cable-suspension system (instead of the traditional poles that attach under the bed and go to the frame) to hold the bed up.
Inside, Clipper and Viking use a Dometic fridge, Suburban furnace and stove-top, and Thetford cassette/toilet ◊, just like Flagstaff and Rockwood. The metal stove cover is the same as Flagstaff's MAC and Rockwood's Freedom series (Flagstaff and Rockwood's Classic/Premier, High Wall, and T-series/A-series have glass tops as of 2014). The sink, faucet, and swing-down galley differ slightly in design but are similar in functionality. The one-piece door is the same as Flagstaff/Rockwood (except the LTD series).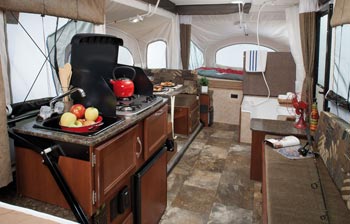 Coachmen's Clipper and Viking brands share their floor plans but change their color schemes (just like Forest River does with Flagstaff and Rockwood). On the A-frames below, the roof (including windows and powered roof vent) looks the same as Flagstaff's, as is the rear window, baggage doors, and frame. The upper part of the entrance door has a larger window than Flagstaff/Rockwood but it doesn't look like it can open (while the Flagstaff/Rockwood door window can). Also, Coachmen uses a different style of front storage trunk than does Flagstaff/Rockwood.

Clipper and Viking share brochure design, too: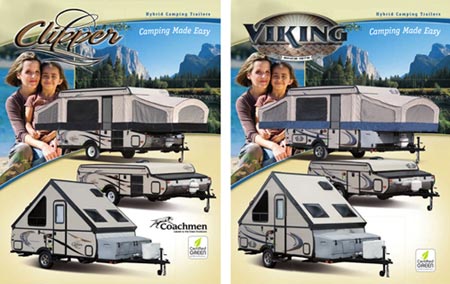 (All images above courtesy of Forest River, Inc.; 2015 & 2016 models shown)

Top of Page
*In some cases Forest River uses the same color or pattern for the countertops, floor, and skin. It varies by year. In a couple cases we've even received Flagstaff campers with Rockwood-colored countertops and tables. Ultimately, Forest River reserves the right to change colors/patterns/specifications at any time (and without warning anybody). We view it as an adventure. (back

)
**The 176, 206LT, and 825D are exceptions to the "for every Flagstaff there is a corresponding Rockwood" rule because we had the 176 and 825D special-made for us. The 206LT is just a 206LTD we've upgraded in our shop. (back

)
***We assume the "T" stands for "triangle" and "A" stands for "A-frame" but Forest River doesn't assign official designations for their alphabet soup nomenclature. (back

)
♦ Some of these model names simply roll right off the tongue, don't they? Plus they have that allure--that caché--a certain name evokes: "Escalade", "Phantom", "Corvette", "T12RBTHSE". (back

)
◊ On the model portrayed in this interior photo, that is. Not all Coachmen campers have a toilet/cassette installed inside.
This page has the most up-to-date information available at the time it was written. Be aware that RV manufacturers may change their materials, specifications, and designs at any time without notification. (back

)

Back to Articles & Tutorials

Top of Page
Older Photos



Privacy © 2009-2023 Roberts Sales. All rights reserved.